FC Cincinnati on MLS Bid: Still Finalizing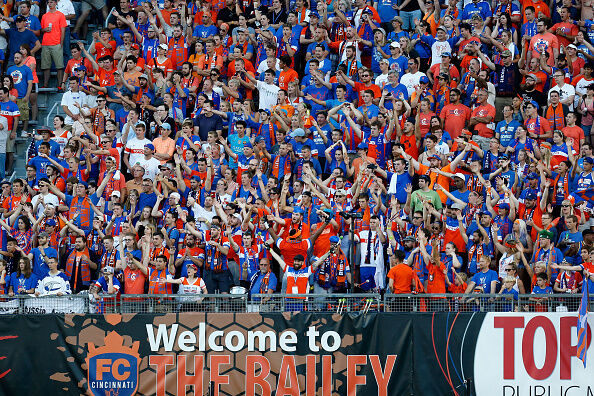 ( Cincinnati ) - Getting closer to answers about whether the city will be home to a third major league sport.
FC Cincinnati officials say in a statement Wednesday that the team and Major League Soccer officials are scheduling a visit with the MLS Commissioner Don Garber and other executives. During this meeting they'll discuss club ownership. Both MLS and FC Cincinnati are trying to work with schedules right now to see when the meeting will happen, Vice President of Communications Lizz Summers said in a phone call this afternoon. Summers said she's only aware of an MLS visit to Cincinnati and cannot confirm if officials are meeting with representatives from other possible expansion teams. MLS officials visiting Cincinnati is "along the lines of what needs to happen in the expansion process in the city," Summers said.
Photos surfaced on social media this weekend of FC Cincinnati President Jeff Berding in Los Angeles at the opening of LAFC's Banc of California Stadium. Berding was joined by FCC CEO Carl Linder III and owner David Thompson. FCC representatives say they were invited there as guests.
"During the trip to Los Angeles, discussions about our expansion bid occurred with MLS executives," the statement said. "While extraordinary progress has been made, all of our work must be finalized – including various legal agreements with the City, Port, County and CPS and an assessment of our interim MLS Nippert Stadium plan – before our bid will be 100 percent complete for final review."
Cincinnati City Council voted last month to approve support for a soccer stadium to be built in the city's West End neighborhood. The most recent stadium renderings show a facility with at least 21,000 seats and room for parking. The rendering puts the soccer stadium very close to Taft High School, the Cincinnati Ballet, and the Cincinnati Police Department.