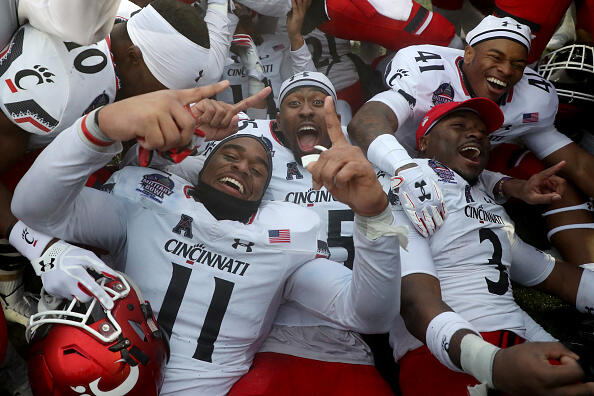 I spent a few days over the last week emailing back and forth with Justin Williams of The Athletic about the upcoming UC football season. For your reading pleasure, here is our conversation, which was originally published in The Athletic.
Mo: I'll get into position strengths and weaknesses and specifics about this year's UC team a little later on, but before we do that, let's look back a little bit.
A year ago, the expectations for the Bearcats were not very high. I think most fans viewed 6-6 as a best-case scenario, with hopes that 2019 would be the year to make a leap. At the same time, you were just starting on the beat forThe Athletic. Being a Cincinnati guy, this was hardly a foreign program to you, but I'm curious what you've since learned about the program and Luke Fickell that you maybe didn't know going in, and what covering a camp with massive expectations hovering over the season has been like compared to what you were around 12 months ago.
Justin: You often hear about new staffs needing a couple of years and recruiting classes to really put their imprint on a program. I guess I just expected that would be the case with Fickell entering last season, especially after the team had to battle to get to 4-8 in his first year. The program had made some noise with a really strong 2018 recruiting class, but I wasn't expecting to see much on-field impact for another year or so. Part of why last season was so impressive is because Fickell and his staff managed to spark the turnaround with a majority of inherited players and recruits. A great deal of this is a product of the "culture" Fickell instituted — and as cliché as that term has become in college football, you could sense a top-to-bottom attitude change last season. But so much of the on-field success came via those inherited players who were previously miscast or overlooked. Moving Bryan Wright to middle linebacker, Malik Clements to sniper, Tyrell Gilbert to cornerback, turning lesser-used names such as Garrett Campbell, Chris Ferguson, Josiah Deguara and Kimoni Fitz into key starters. The way Fickell and company were able to maximize the existing talent was remarkable. Even at quarterback. Desmond Ridder was a Tommy Tuberville recruit — and an unheralded one — yet Fickell, offensive coordinator Mike Denbrock and quarterbacks coach Gino Guidugli recognized what they had in the dual-threat redshirt freshman. To cast the entire roster as a bunch of misfits is a bit extreme, but Fickell deserves a ton of credit for embracing the team he had and finding a way to win.
With 11 wins comes expectations, which has been the clear theme of the offseason. That vibe was evident at Camp Higher Ground as well and started back during spring ball and summer workouts. The staff has been particularly locked in, especially the past few weeks, and the players recognize how and why things will be different this year. The target on their back is bigger, but that's also the environment Fickell lived in at Ohio State and wants to implement at UC — it's what they are selling to recruits, the fanbase and the current roster. There's still some of the underdog mentality, but for the most part, the team has embraced its newfound respect and seem to understand the responsibility that comes with it.
What's also interesting are some of the comparisons to the 2008 and 2009 teams, which have only been fueled by the Pike-to-Binns bobblehead, the 10-year anniversary and Hall of Fame induction. You can speak to this better than I can — how reminiscent does this iteration feel to that one?
To read the exchange in its entirely, go to The Athletic.
(Photo: Getty Images)