Reds Fans Have A Big Reason To Want The DH – Joey Votto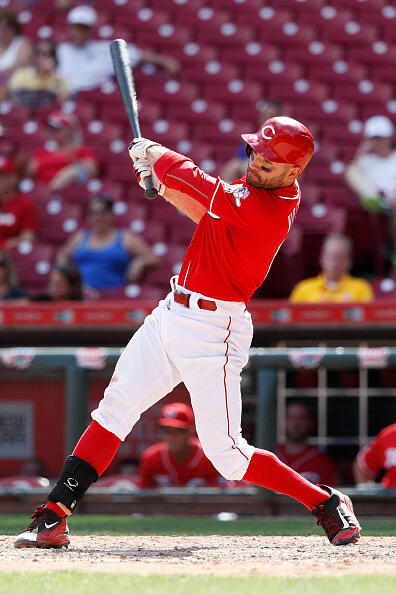 This was originally published in The Athletic .
I've never felt strongly either way about the designated hitter. It's been around for my entire life, so it's not like I'm old enough to pine for a time when American League pitchers were allowed to bat. And the hard lines that once distinguished the American and National Leagues from each other have been almost completely erased for so long that it seems silly to identify with one league or the other. I watch NL games with pitchers batting, and it's fine. I check out AL tilts, and aside from occasionally missing the senior circuit's built-in reminder of where we are in a team's batting order when a hurler comes to the plate, I don't even notice that the pitchers never get to hit.
The no-DH National League doesn't feel purer because the pitchers don't just pitch, nor does the American League seem more wild and progressive just because each team has one more hitter in the lineup. As entertainment and a pastime, there aren't significant differences between the baseball being played in Cincinnati, St. Louis and Philadelphia and the games being played in Kansas City, Cleveland and Detroit.
The two leagues were dissolved as legal entities almost 20 years ago, which more or less destroyed whatever loyalty one might have had to one side or the other. With free agency into its fifth decade and interleague play – now nearly an everyday thing during the season – into its third, whatever trends that might have affected one league more than the other a half-century ago simply spread throughout one larger, more unified entity. There's almost no distinction between MLB's two halves.
Except that one plays its games with a designated hitter.
Beyond the basic absurdity of a sports league having half its membership play under a different set of rules than the other – a concept we'd all mock if it was proposed as a new idea in 2019 – the biggest issue with this is that big-league teams playing under the National League banner are working at a disadvantage with things like free agents, expensive contracts and older players. Even if the entire sport has re-thought the value and practice of giving out exceedingly long and exceptionally lucrative deals to players that will be well past their prime in the final seasons of their contracts, American League clubs can at least have the blow softened by using an aging, expensive player in the batting order while keeping them mostly off the field. No one is ever going to label the 10-year/$240 million contract Albert Pujols is still playing under with the Angels as a "good" deal, but imagine how painful it would be if the greatest right-hand hitter of my lifetime had to man first base 145 times a year.
This brings me to Joey Votto.
To read the entire piece, go to The Athletic .
(Photo: Getty Images)

Mo Egger
Mo Egger delivers his unique take on sports on Cincinnati's ESPN 1530!
Read more