It's worth repeating: Bengals can't make same mistake Reds made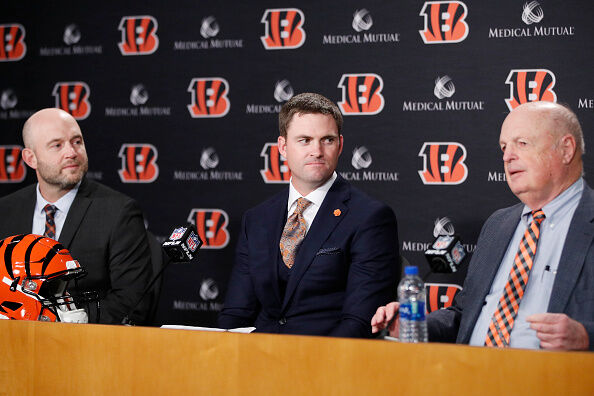 From two weeks ago............
The Bengals can't make the same mistake the Reds made
If you haven't notice, the 2019 Bengals are going nowhere. We are witnessing a freefall initiated by poor recent drafts and the resulting lack of top to bottom roster talent. Brace yourself. This is going to get worse before it gets better. How long will it take to turn this? It depends on the path chosen by the organization as it nears the fork in the road of the October 29 trade deadline.
The Bengals have a window of opportunity. IF they strike now. The phone is going to be ringing with calls from other NFL GM's. Answer each call.
It might be uncomfortable, but the Bengals have to start trading off assets in order to restock their draft coffers. Who goes? Players that other teams are willing to offer draft currency for. That includes the like of AJ Green, Geno Atkins, Carlos Dunlap, Tyler Eifert and Andy Dalton. Pit interested teams against each other. Drive the price up. Take the best offer. Move on. Rebuild.
The last thing they can afford to do is make the same mistake the Reds made.
The issue with the Reds rebuild was the organization's resistance in accepting that a rebuild was even necessary. Fearing the optics of dealing assets in a season they were hosting the 2015 All-Star game was another crusher. The Reds waited too long to deal players like Johnny Cueto, Mike Leake, Todd Frazier and Jay Bruce. They waited and then panicked on the Aroldis Chapman deal following his domestic incident. Windows of opportunity were closed, return value fell short. As a result, the Reds are staring at six consecutive losing seasons.
The Reds rebuild should have started during the 2014 season that ultimately saw them finish in 4th place (76-86). The team was doing nothing but spinning wheels at that point. The December 31, 2014 trade of 21-year old pitching prospect Ben Lively for 37-year old outfielder Marlon Byrd was a classic example of the Reds wasting everyone's time in 2015. Keyvius Sampson, Jason Marquis and David Holmberg combined to waste starts during that season. The Reds sent the likes of Skip Schumaker, Brennan Boesch, Ivan DeJesus Jr and Jason Bourgeois to the plate with a straight face that season. The first real admission of a rebuild didn't come until July of 2015 when the Reds dealt Cueto and Leake within a week of each other. The Frazier and Chapman deals followed in December of 2015.
But back to the Bengals. Will it hurt to see Green, one of the greatest players in franchise history, finish his career someplace else? It sure will. It will be a crusher. But it has to happen.
This team is no position to extend a 32-year old-to-be wide receiver in the final year of his contract that continues to deal with injury issues. Anyone seriously think the Bengals should offer a 2-3-4 year extension at $20M+ to Green? To do what? With who as his new QB? The reality is they'd be doing Green a favor by dealing him. He will escape the dust and rubble of the tear down.
As for Dalton, Mike Brown made it clear this past offseason that 2019 was a prove-it year for the Bengals QB. Seven games into this season Dalton has proven the Bengals can't hitch their wagon to him with an extension at $20M+ when his contract expires after next season.
Geno Atkins is 31-years old and still has some juice left. Carlos Dunlap is 30-years old and flashes enough that somebody will take his athleticism and offer the Bengals a lottery ticket. As for Tyler Eifert, I hold my breath on each snap he takes. Exhale and let an interested team cross their fingers.
Admittedly, there is a sizeable gap between what the Bengals should do and what the Bengals actually tend to do. And no guarantees come with this football business model. But the Bengals have a chance to get this right. The front office has a chance to give Zac Taylor the draft currency to acquire 'his' players and rebuild the roster into his vision.
You have to hope Duke Tobin and the Bengals can get the bat back on the ball and connect on draft picks. They did that often in the 2010-2011-2012 drafts. The result was the foundation for five consecutive playoff appearances. But they have swung and missed way too often since 2015. The result is a current 53-man roster with gaping holes and a serious lack of talent.
Are the Bengals willing to do all of this? Can they go big and go bold? They better. This franchise is at a crossroad. Apathy is gaining on anger with fans. Empty PBS seats speak volumes each Sunday.
The marketing campaign has been a 'New Dey'. The Bengals have actually shown glimpses of new ways the last two years. They tried to deal AJ McCarron in season two years ago this month. They engineered a draft-day trade to get Cordy Glenn and trade for Billy Price (Hey, it seemed like a good idea at the time). But the biggest card they've played is moving on from Marvin Lewis and rolling dice with a 36-year old first time NFL head coach and an almost entirely new staff.
Now it's time to take a leap of faith. Execute a home makeover of the Bengals.
What can the Bengals get in return for each of the players mentioned above? No idea. Market value comes down to how much teams are willing to offer. Hope for bidding wars. Take the best offer and move on. If a team actually offers a 1st rounder for Green, I'll personally drive him to that city, drop him off, thank him for the time and effort and tell him I hope to see him get a ring with his new team and a bust in Canton.
This situation feels hopeless and hapless. Trading off players won't signal the end. It will mean a new beginning. Fans will accept it. I think.
A rebuild buys the franchise some time. Big picture wise it will also give the franchise a chance to build momentum towards the end of their 2026 lease agreement.
We've been through UC basketball rebuilding under Mick Cronin, the Reds suffering through six straight losing seasons and FC Cincinnati getting their head handed to them in year one of MLS. We should be used to this. Bengals fans gone 29 years since the last playoff win. What's waiting another couple of years while the franchise attempts a rebuild?
As I always say: What's the downside?

Lance McAlister
Lance McAlister covers everything in Cincinnati sports! Host of sports talk on Cincinnati News Radio 700WLW and ESPN 1530!
Read more