Bengals enhance game experience at Paul Brown Stadium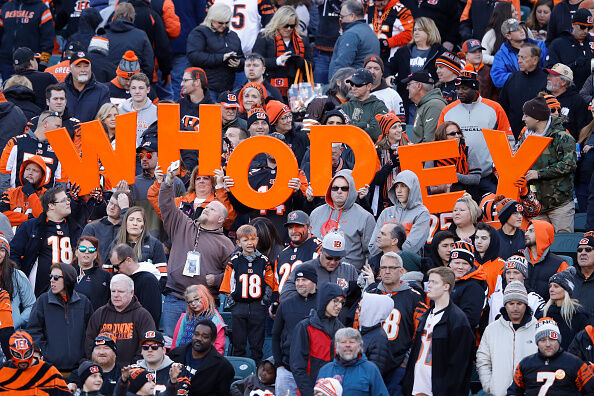 BENGALS ENHANCE FAN EXPERIENCE AT PAUL BROWN STADIUM
            The Bengals are introducing numerous features designed to enhance the gameday experience at Paul Brown Stadium, including a revamped guest services approach, a street team that interacts with fans, additional elements in the Jungle Zone, a redesigned gameday section in the Official Bengals App and new stadium speakers.
"Who Dey Team" guest service representatives will be available throughout the stadium to ensure fans have a positive gameday experience. Who Dey Team members will greet fans as they arrive and are available to assist fans and answer any questions.  
"Bengals Street Team" members are key brand ambassadors to get fans hyped on gameday. The Bengals Street Team will be on the field during the game carrying flags and interacting with fans throughout the day with prizes and giveaways in tailgate lots and the Jungle Zone.
The Jungle Zone is the centerpiece of the pregame experience with the tailgate party getting underway three hours prior to kickoff. Located on the east plaza level of Paul Brown Stadium, the Jungle Zone features food, drinks, giveaways and family-friendly activities including face painting. New games this year include Ninja Warrior races, football throwing contests, inflatable axe throwing and Fowling (bowling with a football). A professional world record holding juggler will perform in the Jungle Zone on Sunday.
           The Official Bengals App features a redesigned gameday section with easy to access information about the game, including tickets, traffic, parking, clear bag policy and information on the match-up. Fans can get accurate directions to the stadium and surrounding parking lots and garages through the Bengals app or by downloading the Waze app.
Paul Brown Stadium completed the second of a three-year upgrade to the in-bowl sound system. This year's project entailed the installation of approximately 120 speakers on the lower level and 70 new speakers on the canopy level with additional 21" subwoofers on each side of the canopy level. 
---------------------------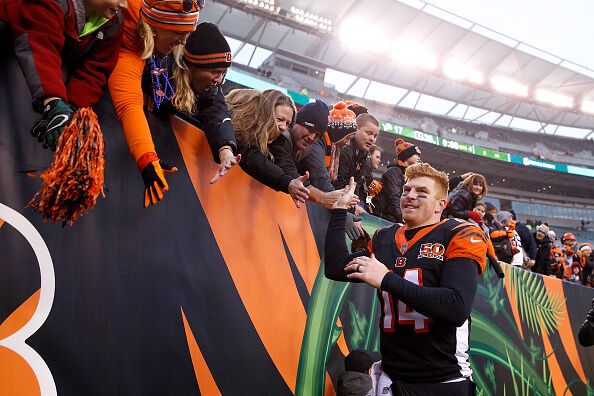 NEW FOOD LINEUP
Aramark, the Bengals food service provider, will introduce several new food options at Bengals games, including specialty burgers, hot dogs, tater tots and healthy food options. Fans can also choose from several lower priced concession items, including $3 popcorn, $4 hot dog and $5 draft beer.
Tacos
·Fajita Chicken Taco: Marinated and grilled chicken served with fajita peppers and onions, enchilada sauce and topped with cotija cheese
·Short Rib Taco: Slow roasted short rib served with a hot black bean and corn salsa, avocado crema and topped with cotija cheese
BBQ
·Pulled Pork: House smoked pork butt, chopped and pulled, served on a split top bun
·Brisket: Hand sliced smoked brisket served on a split top bun
Loaded Tater Tots
·Short Rib Poutine: Slow roasted short rib served a top tater tots with brown gravy and white cheddar cheese curds and garnished with green onions
·BBQ Chicken Tot: Grilled chicken served a top tater tots, drizzled with BBQ sauce, topped with diced red onions, shredded cheddar jack cheese and cilantro
Loaded Hot Dog
·Mexi Dog: 1/6th pound all beef black angus Eisenberg hot dog topped with chipotle mayo, pineapple salsa, pickled jalapenos and cotija
Gourmet Burgers
·BBQ Bacon Burger: Fresh 1/3 pound hamburger patty topped with cheddar cheese, bacon, BBQ sauce, and crispy onion straws
·California Burger: Fresh 1/3 pound hamburger patty topped with pepper jack cheese, bacon, avocado aioli, bib lettuce, tomato and red onion
City StrEATs
·Pork schnitzel slider on a pretzel bun topped with gouda, German hot purple slaw, and an apple mustard sauce
TriHealth Healthy Options
·Turkey and Brie Sandwich: Sliced oven roasted turkey breast served on Oat Nut bread topped with brie, Arcadian mix, brochette Roma tomatoes and an apple red onion chutney
·Black Bean Spring Wrap: Cilantro black bean spread on a jalapeno cheddar wrap topped with a fresh cucumber salsa and chopped romaine lettuce
·Chipotle Chicken Salad: Arcadian mix topped with black beans, corn, diced Roma tomatoes and a chipotle pepper marinated chicken breast. Served with a roasted red pepper balsamic dressing
·Pear Turkey Bacon Flat Bread: Cauliflower flat bread topped with goat cheese, turkey bacon, and diced pears. Finished with fresh arugula and a balsamic glaze drizzle
·Beyond Brat : Beyond Meat Brat served on a hot dog bun, topped with peppers and onions

Lance McAlister
Lance McAlister covers everything in Cincinnati sports! Host of sports talk on Cincinnati News Radio 700WLW and ESPN 1530!
Read more