Reds stop losing streak, beat Cards 2-1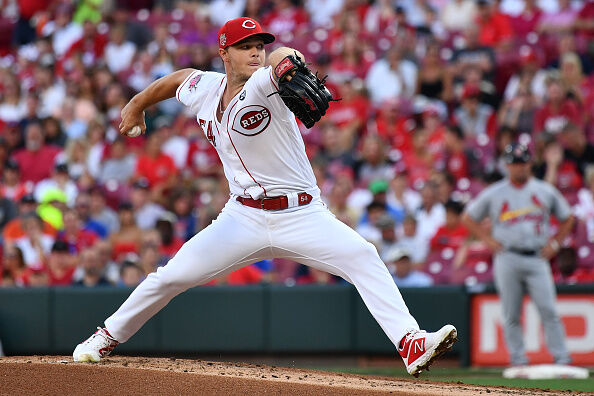 Reds 2 Cardinals 1
Well, the Red sure needed that.
They opened a seven game homestand Monday night by puling the emergency break on a four game losing streak and cooling off the first place Cardinals 2-1.
Sonny Gray was the story. He teamed with three relievers on a two-hitter, shutting down a Cardinals team that entered the night having won five consecutive games.
It wasn't easy.....by any means...and course....it was a one-run game (18-23).
Raisel Iglesias, attempting a four-out save, allowed a two-out 9th inning double to Kolten Wong to pull the Cards within 2-1.
The Reds move to 57-63 on the year and pull within 6.5 games of first place.
Gray became the first Reds pitcher to produce three consecutive scoreless starts in the same season since Tom Browning in June 1989 and the first Reds right-hander since Jose Rijo in August & September 1988.
Gray battled. He ran his pitch count up early, but didn't allow a hit until a Dexter Fowler 2-out single in the 5th inning. He sat at 97 pitches through five innings thanks to 10 strike outs, three walks, a hit batter and the Cardinals fouling off 19 pitches. Gray extended his career-high scoreless streak to 18 innings.
Gray: 5 IN, 1 H, 0 R, 3 BB, 10 K. 97 pitches/55 strikes. It was Gray's sixth career game of at least 10 strikeouts, his second of the season. I would have let him start the 6th inning. He's thrown 100+ pitches eight times. Yet, he'd done that in back-to-back previous starts (110,104).
In his last nine starts, Gray has posted an ERA of 1.59, lowering his season ERA from 4.03 to 2.98. How's that three-year/$38M deal with an option looking, again?
The Reds have two of the Top 11 ERA leaders in MLB: 6. Luis Castillo (2.69) and Sonny Gray (2.98).
The Reds broke through with two runs in the 5th inning. Jose Iglesias (single) scored on Nick Senzel's fielder's choice and Eugenio Suarez delivered a two out RBI single to score Senzel.
Tucker Barnhart was hit by a Michael Wacha pitch on the ear flap of his batting helmet in a scary scene in the 5th inning. Cards catcher Yadier Molina immediately jumped from his crouch to check on Barnhart. He stayed in the game.
David Bell asked his bullpen to record 12 outs.
Robert Stephenson tossed a perfect 6th inning. He has allowed one earned run over his last nine appearances/10.1 innings (0.87).
Michael Lorenzen: 1.2, 0 R, 1 BB, 2 K.
Raisel Iglesias came on to face Paul Goldschmidt with one on and two outs in the 8th inning and induced a first pitch fly out.
Jose Iglesias had a two hit night (.293) to extend his hit streak to 10-games. That's the longest streak by a Reds player this season.
Freddy Galvis singled in the 6th and is 6 for 9 since joining the team.
Aristides Aquino 0 for 3 BB. Phillip Ervin BB (picked off) and a double. Suarez had two hits.
Joey Votto was a late scratch from the starting lineup with lower back tightness. Josh VanMeter got the start at 1B.
Reds pitchers recorded 15 K's on the night.
Box score HERE

Lance McAlister
Lance McAlister covers everything in Cincinnati sports! Host of sports talk on Cincinnati News Radio 700WLW and ESPN 1530!
Read more