Reds lose. Second guessers win.....again.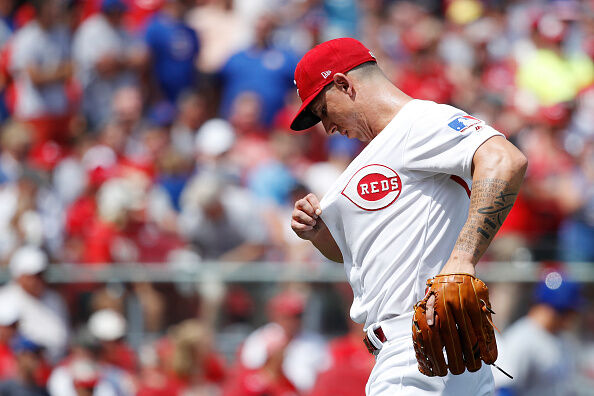 Reds
The Reds lost to the Cubs 6-3 on Sunday.
Instead of taking 3 of 4 from the first place Cubs, the Reds settled for a split. Instead of pulling within five games of first place the Reds fall seven game back with 46 games remaining.
That gap feels larger than just two games, based on the fact the Reds led 3-0 into the 6th inning with ace Luis Castillo on the mound.
The Reds drop to 56-60 on the season. Bell, according to his critics, falls to 0-60. The second guessers stay unbeaten.
The defining moment of the game unfolded with two outs in the 7th inning. Castillo had allowed a leadoff double to Ian Happ, back-to-back ground outs to make it 3-2 and an infield chopper by Jason Heyward. Bell went to the pen for Michael Lorenzen.
Lorenzen promptly allowed a single to right-handed hitting Nick Castellanos and then served up a soul crushing three-run homer to right-handed hitting Kris Bryant to give the Cubs a 5-3 lead.
After the fact, I heard fan clamors to leave Castillo in. I heard calls for Amir Garrett (surrendered Happ solo homer in the 8th). I even had a fan claim "Bell should have used that guy we got from the Braves."
Fact: Castillo allowed a run and three of the four hardest hit balls vs him in the 6th inning: Baez double (110.6 mph), Bryant single (107.6) and Heyward single (106.8). Then, Happ led off the 7th with a double (barely missing a homer) at 99.9 mph. The move by Bell wasn't about pitch count (100 pitches). It was about Castillo, who allowed the lowest percentage of hard contact among ML starting pitchers (FS Ohio) having been barrelled for four rockets in the 6th and 7th.
Bell had a fresh bullpen, with only Romano having pitched Saturday night. He turned to a guy that's allowed two runs over the last month.
Is it really too much to ask for Lorenzen to record the final out of the 7th inning? It can be as simple as this: Lorenzen did not do his job.
I get it, fan is short for fanatic. But does that mean the understanding of situations get tossed out the window? I'm called a Bell apologist. I'm told I carry water for him.
Not really. Heck, I'm still trying to figure out why he called on David Hernandez in a 7-5 game Thursday.
I just try to understand situations and decisions as I watch a game. It's really easy to second guess a decision. You have the benefit of knowing the outcome.
I know exactly the storyline if Castillo had been left in and given up the lead. Fans would have screamed at Bell for not turning to a fresh bullpen and replacing a wobbling Castillo.
The right decision doesn't always work out. It happens. I wish more fans would understand that.
Among things not to be lost in the shuffle:
*The Cubs entered the series with a beleaguered bullpen and had just recently placed Craig Kimbrel and Brandon Kintzler on the IL. But that Cubs pen tossed six scoreless innings on Friday and four more scoreless innings on Sunday.
*A Reds offense that chased Cubs started Jon Lester with three runs inside the first five innings, produced a single hit over the final four innings.
Hope to catch you Monday at 6:05 for the Inside Pitch on 700 WLW.

Lance McAlister
Lance McAlister covers everything in Cincinnati sports! Host of sports talk on Cincinnati News Radio 700WLW and ESPN 1530!
Read more