Reds bats melt in heat, fall 3-1 to Cards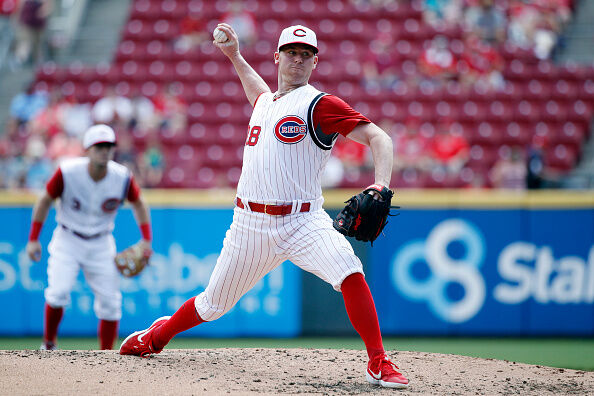 Cards 3 Reds 1
The Cardinals scored two runs on three hits, an error and four stolen bases in the 2nd inning and made it stand up in a 3-1 win over the Reds Sunday afternoon at GABP. The Cardinals took 3 of 4 in the series playing without Marcell Ozuna, Yadier Molina, Matt Carpenter, Jordan Hicks and Jedd Gyorko.
The Reds fall to 44-53 on the season and have lost 9 of 12 overall.
The two teams combined for 29 strikeouts on the afternoon.
The Reds were shutout one out in the 8th inning before Phillip Ervin hit a pinch-hit solo homer (2) to cut the deficit to 2-1. It was first PH-homer of Ervin's career. But Raisel Iglesias gave the run right back surrendering a 9th inning homer to Yairo Munoz to push the Cards lead to 3-1.
Joey Votto came to the plate as the tying run in the 9th after a Jesse Winker 2-out walk but he struck out looking to end the game.
DeSclafani: 6 IN, 4 H, 2 R, 1 ER, 0 BB, 11 K, 101 pitches. His 11 K's are career high. Over his last 8 appearances, including today, he has posted an ERA of 3.07.
It's the first time the Cards have stolen four bases in an inning since 1990. How many times will Disco ignore a baserunner, only to have the runner steal a base, before the veteran pitcher makes an adjustment?
Luca Sims pitched the 7th and worked around a leadoff triple.
The Reds left baserunners(10) scattered all over the bases throughout the afternoon. Their best scoring chance came in the 5th inning. They loaded the bases with nobody out thanks to a double by Winker, single by Votto and HBP from Suarez. But Puig popped up, VanMeter struck out and Gennett struck out.
The 15 K's by Reds pitching is a season high and the most in a game since June 30 of last year (18 Brewers).
Votto collected two hits, the only Reds player with a multi-hit game. The strikeout looking was his 36th of the season.
With his double, Winker extended his hitting streak vs the Cardinals to 14 games and his on-base streak vs St. Louis to 24 games.
Scooter Gennett lined a single in three plate appearances. Might be the best struck ball of his 7 for 43 (.163) performance since his season debut.
The Reds lost lost 7 of 10 out of the All-Star break. They dropped 8 of 13 after the break in 2018 and lost 14 of 16 after the break in 2017.
The Reds are now 13-29 during day games, compared to 31-24 in night games. Go figure.
Box score HERE

Lance McAlister
Lance McAlister covers everything in Cincinnati sports! Host of sports talk on Cincinnati News Radio 700WLW and ESPN 1530!
Read more