Schwarber homers to beat Reds in bottom of 10th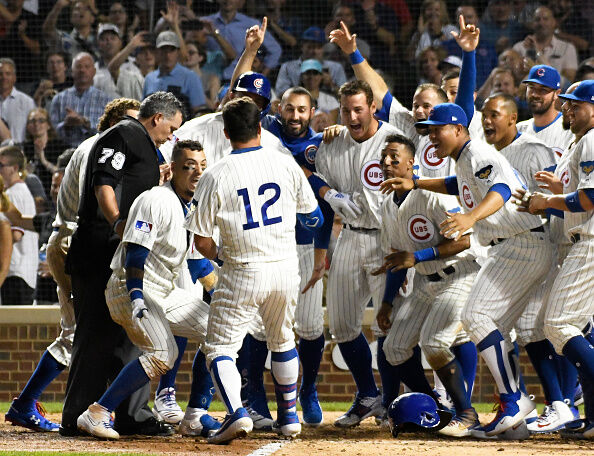 Cubs 4 Reds 3 (10 innings)
What a game. There was tension, drama, maneuvering, switching......you name it, the game had it. It sure felt like more than a regular season game in July.
What a loss.
The Reds, who jumped out to a 3-0 first inning lead but did not score again, watched Kyle Schwarber clobber a game-winning homer in the bottom of the 10th inning.
The blast came off Raisel Iglesias, who was pitching for the third consecutive day. A punch to the gut game that drops the Reds to 43-49 and back to 6.5 games behind the first place Cubs.
It was the Reds 19th one-run loss of the season (14-19). 31 of their 49 losses are by 1 or 2 runs.
The Reds will go for a series win Wednesday afternoon with Sonny Gray facing Yu Darvish.
3-3 in the 9th, Scooter Gennett singled vs Craig Kimbrel with one out. Michael Lorenzen pinch-ran and stole second. Kyle Farmer struck out. Jesse Winker walked. Joey Votto lined out to center.
The Cubs pushed a runner to second with one out in the 9th. David Bell doubled switched and brought in Raisel Iglesias. Albert Almora Jr. struck out, but the ball got past Kyle Farmer. He threw out Almora Jr at 1st base with Garcia advancing to 3rd base. Iglesias struck out Martin Maldonado to end the threat.
Cubs starting pitcher Alec Mills allowed three runs on three hits and hit two batters (Puig/Dietrich). For the second consecutive game Eugenio Suarez rocketed a first inning solo homer (23). Jose Peraza ripped an RBI double and Nick Senzel an RBI single. The Reds should have scored five in the inning. But Senzel was thrown out at the plate on the Peraza hit and Cubs CF Albert Almora Jr robbed Joey Votto with a spectacular catch.
The Reds are tied for the ML lead in first inning runs and have outscored the opposition 77-44 in the first inning.
But Mills, called up from AAA with a 4.78 ERA, shutdown the Reds offense shutdown after the 1st inning: 6 IN, 5 H, 3 R, 1 BB, 6 K, 3 HBP, 81 pitches/51 strikes.
The Cubs cut a 3-0 deficit to 3-2 on a two-run homer by Robel Garcia vs Anthony DeSclafani in the 3rd inning. They then tied the game with a 2-out homer by Kris Bryant in the 6th inning.
DeSclafani: 5.2 IN, 4 H, 3 R, 1 BB, 4 K. 87 pitches/52 strikes.
The Cubs reached Jared Hughes for back-to-back two out infield hits in the 8th. David Bell turned to Robert Stephenson to face Anthony Rizzo (.980 OPS vs RH/.661 vs LH). Stephenson fell behind 3-0 and then battled to a full count. Rizzo then clobbered a ball to center field that stayed in the park to end the inning. What a sequence!
Dietrich was hit by a pitch twice, for the 19th time and 20th time this season. That's the most in MLB, and for the fourth time in his last six games. He has three multiple HBP games this year.
Great stat by FS Ohio on Dietrich this season: HR (19), HBP (20), 1B (18).
Suarez has 3 homers in his last 5 games and 7 HR in his last 12 games.
Votto has reached base safely in 41 straight games at Wrigley Field, the longest streak by a visiting player since Wally Moon(Cardinals/Dodgers) reached in 47 consecutive apps here from 8/30/1957 - 9/15/1962.
Credit to Farmer, he took a beating on foul balls all night and hung in there.
I can't recall ever seeing a CF go, with his back to home plate, into a slide onto the warning track to make a catch like Almora Jr did to rob Votto.
Box score HERE
*****Free!*****
Barleycorn's presents my Twitter feed each day. I'd like to invite you to follow me. I'm @lancemcalister. I give away a Barleycorn's gift card each week.
Email me at lance@lancemcalister.com and I'll randomly select a winner of a gift card today. Winner will have to pick-up the gift card at our studios in Kenwood.

Lance McAlister
Lance McAlister covers everything in Cincinnati sports! Host of sports talk on Cincinnati News Radio 700WLW and ESPN 1530!
Read more