Bounce back: Reds homer five times to beat Giants 9-2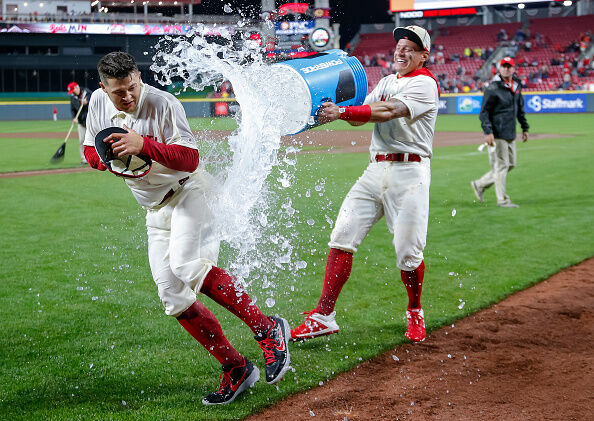 Reds 9 Giants 2
Nick Senzel hit his first major league home run, was robbed of a second, and the Reds bounced back from Friday night's debacle to beat the Giants 9-2 at GABP.
Senzel's blast was part of a five home run night for the Reds. Tucker Barnhart, Derek Dietrich, Yasiel Puig and Eugenio Suarez joined in the homerfest.
Senzel appeared to have a second homer until Giants CF Kevin Pillar scaled the wall in center field to haul it in.
Tanner Roark pitched well: 6.2 IN, 4 H, 2 R, 2 BB, 7 K. 113 pitches/72.
Cody Reed, called up earlier in the day when the Reds released Matt Kemp, tossed 2.1 scoreless innings with four strikeouts to close it out.
Puig had a three hit night. Joey Votto 0 for 2, 2 BB, R. He's 0 for his last 14 and down to .213.
Senzel became the 18th Reds player since 1908 to hit a home run in his 1st or 2nd career game. The last Reds player to do it was Drew Stubbs on 8/20/2009, also in his 2nd career game, also at home against the Giants. The last Reds player to homer in his 1st career game was Guillermo García on 7/19/1998.
The Reds are now 14-19 on the season.
Attendance: 21,104
Box score HERE

Lance McAlister
Lance McAlister covers everything in Cincinnati sports! Host of sports talk on Cincinnati News Radio 700WLW and ESPN 1530!
Read more