This date '02: Jose Rijo's first start in seven years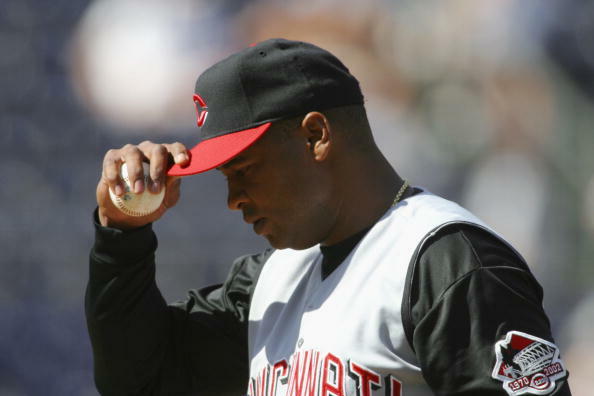 Flashback: April 21, 2002
On this date in 2002, Reds pitcher Jose Rijo made his first ML start in seven years.
He pitched five innings, not allowing an earned run, to beat the Chicago Cubs 5-3 at Wrigley Field.
The 37-year old made his first start since July 13, 1995. Rijo had missed five ML seasons with elbow issues from 1996-2000. He had three Tommy John surgeries and a total of five elbow surgeries.
Here is a story about Rijo's comeback from John Erardi:
The last time, the third Tommy John surgery, there was virtually no ligament left to attach to the two bones to keep Jose Rijo's throwing arm together. So Dr. James Andrews winged it. "He had to find a strand of ligament, a strand of tendon, anything he could find in there that would stay together and heal," Reds medical director Tim Kremchek said. "It's biblical," Bowden says. "If the good Lord's going to bless someone, give someone a miracle, he's going to pick someone like Jose Rijo. Jose represents the word perseverance better than any baseball player, probably ever in the game."
Here is a USA Today story on the comeback.
Rijo had returned to the majors in August 17, 2001, after a five year absence.
He appeared in 13 games in 2001, but all in relief, tossing 17 innings with a 2.13 ERA.
Rijo had planned to retire following the comeback in 2001, but decided he could not walk away from the game. He went to spring training with the Reds and made the roster.
"Boone called me over that day, and I was so nervous," Rijo said. "He stuck out his hand and told me I'd made the team. I was so numb. It was an awesome feeling."
After four relief appearances to begin the 2002 season, Rijo took the mound as a starter on April 21. He had gone seven years between ML starts and wins.
Here is the boxscore from his win on this date in 2002.
Rijo would appear in 31 games in 2002, making nine starts.
He went 5-4 with a 5.19 ERA. It would be his final season in major league baseball.
Rijo retired with a career record of 116-91 3.24, a World Series MVP, an All-Star appearance and two Top 5 Cy Young Award finishes.
What a comeback....what a character....what a career.
Watch Rijo's return to the majors in August 17, 2001, after a five year absence.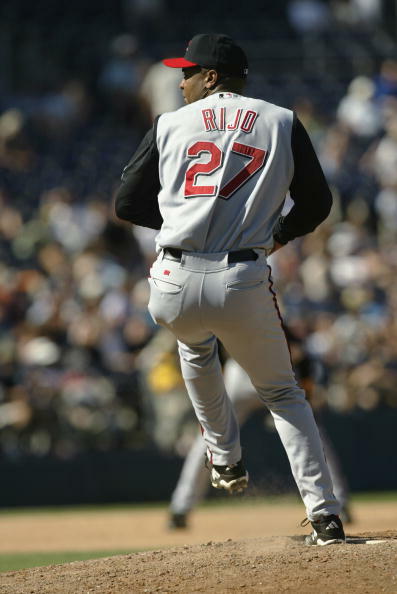 He insists he has the best job going....and who is to argue? He gets paid to talk about the teams he grew up with in Cincinnati. He painted his face for the Freezer Bowl and watched Pete get hits 3,000 and 4,192 in person. His broadcast career originated with weekly calls to WLW Sports Talk to talk circles around Bob Trumpy. When he wasn't bugging neighbor Marty Brennaman to sign his 1976 Reds Greatest Hits album, he was playing for Cincinnati's 1977 dynasty little league team, Wicks Good Food and Booze. Being cut from his high school baseball team, as a left handed shortstop, opened the door to doing radio at his high school station. After graduation from Carmel High School in Carmel, Indiana in 1984 it was onto Butler University. His TV sports anchor career began at WSBT-TV in South Bend and took him to CLTV in Chicago. The highlight of his broadcast career was winning a Midwest Emmy for Chicago Bulls coverage. Eventually he left to do radio with Norm Van Lier at WMVP AM 1000 in Chicago. Then it was back home to Cincinnati in 1997. He resides in Northern Kentucky. Wife Kelly was his intern in Chicago (insert own joke here). He has two children, Casey 17, and Peyton 14. In 2003, Casey received a bone marrow transplant that saved his life after being diagnosed with AML leukemia.Lance is the proud owner of the St. Pete Roses, his fantasy baseball team for the past 27 years. In 2006 he played on the Reds Baseball Heaven Championship team with his father. Despite an injured hamstring that limited him to a DH role, he hit a crisp .500 (14 for 28) for the week. In November of 2008, after fainting in the emergency room, Lance's heart stopped and he flat lined for 60-seconds. That day he received the ultimate conversation starter, a pacemaker. Like the watch, he keeps on ticking today.