It's official: Bengals sign LB Minter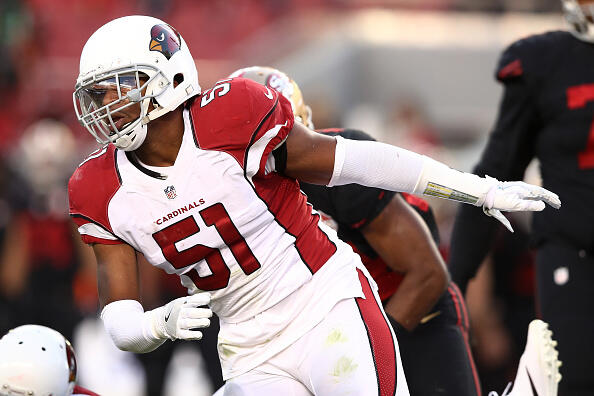 Bengals
The Bengals today signed unrestricted free agent LB Kevin Minter, who has started every game for Arizona the last two seasons and has finished second on the team in tackles each year. He signed a one-year contract.
Minter (6-0, 246; Louisiana State) is a fifth-year NFL player. He was an Arizona second-round draft choice in 2013. He has played in 61 consecutive games (including postseason) and helped lead the Cardinals to the playoffs in both 2014 and '15. He has 254 career tackles, with five sacks and 11 passes defensed.
"Kevin is a very instinctive player with a great background," said Bengals LBs coach Jim Haslett. "Smart guy, good guy. Good nose for the ball. He has three-down abilities and will help us in a lot of ways."
Minter had a career-best 3.5 sacks last season while totaling 95 tackles. He had nine tackles-for-loss and four passes defensed. In 2015, he had a career-best 110 tackles for an Arizona team that finished 13-3 and reached the NFC Championship game. He led the Cardinals in '15 in postseason tackles-for-loss (four), with 15 total stops.
"The Bengals have a very stout defense, but my goal is to come in and play every down," Minter said. "I'm excited to be a part of it. The way the organization embraced me on my visit, it just feels right."
The Minter File
Minter is 26-years old. He visited the Bengals earlier in the week.
He's a 2013 second-round draft out of LSU.
He played 61 games, with 37 starts in his four NFL seasons with Arizona.
Minter racked up 223 total tackles, five sacks, four pass breakups and a forced fumble in Arizona.
Minter started all 32 games as an inside linebacker the last two years with Arizona.
He is know as a punishing tackler, recording 81 tackles last season and a career-high 3.5 sacks.
Minter was ranked 25th among linebackers in 2016, according to Pro Football Focus.
The Cardinals replaced Minter with the signing of Karlos Dansby last week.

He insists he has the best job going....and who is to argue? He gets paid to talk about the teams he grew up with in Cincinnati. He painted his face for the Freezer Bowl and watched Pete get hits 3,000 and 4,192 in person. His broadcast career originated with weekly calls to WLW Sports Talk to talk circles around Bob Trumpy. When he wasn't bugging neighbor Marty Brennaman to sign his 1976 Reds Greatest Hits album, he was playing for Cincinnati's 1977 dynasty little league team, Wicks Good Food and Booze. Being cut from his high school baseball team, as a left handed shortstop, opened the door to doing radio at his high school station. After graduation from Carmel High School in Carmel, Indiana in 1984 it was onto Butler University. His TV sports anchor career began at WSBT-TV in South Bend and took him to CLTV in Chicago. The highlight of his broadcast career was winning a Midwest Emmy for Chicago Bulls coverage. Eventually he left to do radio with Norm Van Lier at WMVP AM 1000 in Chicago. Then it was back home to Cincinnati in 1997. He resides in Northern Kentucky. Wife Kelly was his intern in Chicago (insert own joke here). He has two children, Casey 17, and Peyton 14. In 2003, Casey received a bone marrow transplant that saved his life after being diagnosed with AML leukemia.Lance is the proud owner of the St. Pete Roses, his fantasy baseball team for the past 27 years. In 2006 he played on the Reds Baseball Heaven Championship team with his father. Despite an injured hamstring that limited him to a DH role, he hit a crisp .500 (14 for 28) for the week. In November of 2008, after fainting in the emergency room, Lance's heart stopped and he flat lined for 60-seconds. That day he received the ultimate conversation starter, a pacemaker. Like the watch, he keeps on ticking today.