College basketball: No senioritis for Bearcats/XU in?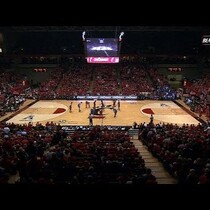 Posted March 7th, 2014 @ 9:40am
College basketball
How about 23, 466 attending a Thursday night of college basketball in the city of Cincinnati?
UC: 13,126
XU: 10,340
Latest bracket from Jerry Palm:
3-seed Cincinnati, Louisville
6-seed Kentucky, Ohio State
11-seed Xavier, Dayton
CBS Sports: Xavier still has work to do
Cincinnati 97 Memphis 84
*24-5/14-3
*How about that for a Senior Night script?
*SK/Rubles/Jackson combined for 71 of UC's 97 points.
*UC starters played 147 minutes and have ZERO turnovers.
*Just 3 turnovers, after 20 vs UConn.
*Kilpatrick 34 points on just 18 FGA, 3 assists....he cried before the game and saluted the fans after the game.
*Career night on Sr Night for Rubles, he was money, get it?
*Rubles: 24 points/5 rebounds. Previous career high 14.
*JJ had 2 FG combined in previous 2 games, 13 points/9 rebounds last night.
*1st double digit game in 12 games for Rubles, since January 1 (13) vs Temple.
*UC 99-37 over last four years, most during any four year period under Mick.
*UC 4-1 vs ranked teams
*Most points Bearcats have scored since 102 vs Chicago State, December 23.
*UC 25-0 when scoring 70+ points last 2+years, 55-2 last 4+ years.
*21-0 this year when leading at 10-minute mark of game….have won 40 of last 41 and 184-11 under Mick.
*Three straight sellouts, first time since 2004-2005. Recruits were in the house.
Audio: Mick Cronin's postgame
SK Senior Night
The American Conference
*Picked to finish 4th in preseason, UC will play for American Conference championship Saturday: UC/UL both 14-3. UC at Rutgers, UL home UConn.
*A UC win Saturday, gives them at least a share of The American.
Below are all the tiebreakers:
College Saturday's games:
Cincinnati at Rutgers, Noon ET (ESPNews and 700 WLW)
UConn at Louisville, Noon ET (CBS)
*If one team wins and the other loses Saturday, then the winner is the outright regular-season champion and the No. 1 seed.
*If both teams win, then the SMU-Memphis game comes into play. If Louisville, Cincinnati and SMU win, then Louisville gets the top seed (would be 4-0 against SMU/UConn, while Cincinnati would be 2-2).
*If Louisville, Cincinnati and Memphis win, then a coin flip will determine the 1/2 seeds. Both UC and UofL would be 4-2 against the group of SMU/UConn/Memphis, which would be tied at 12-6.
*If both teams lose, then Louisville is No. 1 if SMU beats Memphis (UofL 3-1 vs SMU/UConn; Cincinnati is 2-2) and Cincinnati is No. 1 if Memphis beats SMU (Cincinnati 3-1 vs SMU/Memphis; Lou 2-2).
*Any teams that tie for first place are declared regular-season champions, regardless of seed.
Bearcats announce 2014-2015 season ticket plan
Senior Night
This was cool
Xavier
Villanova 77 Xavier 70
*I still think XU is an NCAA tournament team
*20-11/10-8
*Went toe-to-toe with #6 in country...got a test run without Stainbrook.
*Had chance to cut to four with 3:00 left, Christon missed front 1&1, Reynolds fouled, Villanova increased lead to 10.
*I talked about the inconsistency of Dee Davis, with Bryon Larkin Wednesday night. Davis got in early foul trouble, missed his first seven shots, wound up 2 of 9, 8 points, 2 assists. As he goes....XU tends to go.
*Justin Martin 20 points, 6 boards, Chiston 18/6, but needed 22 FGA, and went forever w/o FG in 2nd half, Philmore 15.
*XU could not get stops in 1st half: 56% FG by Villanova.
*XU could not buy a 3 in 2nd half.....think first 11 attempts.
*XU had won 16 of last 17 Senior Nights ('06 vs St Joe's).
*Too many first half turnovers.
*Chris Mack came out firing in post game: FS 1 scheduling for Big East and about perception of Big East compared to Atlantic-10 (7:22 mark).
Postgame
How about Cal today?
Watch the final minute of his presser today
Love for UD Flyers