US Factory Boss Held Captive by Chinese Workers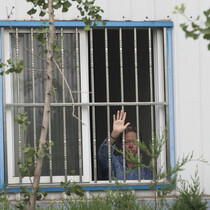 Posted June 24th, 2013 @ 11:19am
Associated Press/Andy Wong
BEIJING (AP) — An American executive said Monday he has been held hostage for four days at his medical supply plant in Beijing by scores of workers demanding severance packages like those given to 30 co-workers in a phased-out department.

Chip Starnes, 42, a co-owner of Coral Springs, Florida-basedSpecialty Medical Supplies, said local officials had visited the 10-year-old plant on the capital's outskirts and coerced him into signing agreements Saturday to meet the workers' demands even though he sought to make clear that the remaining 100 workers weren't being laid off.
Read the rest of the story here >>
Is this payback for outsourcing jobs to China? Do you sympathize with him or did he get what was coming to him? Tell us what you think in the comments below.